Texas Longhorn cattle have been the mainstay of Dickinson Cattle Company, LLC. ever since the very beginning. To make this all coordinate in a smooth way takes some very dedicated and quality employees. We hope this WEB page gives you an opportunity to learn more about each valuable person and their skills. As you dial the number at the home office, perhaps the information in this article will assist you in going right to the person that you want to talk to. This is not a government office. You will find a human voice answering the phone nearly every time, people with names, who care about you and your business.
Darol and Linda live on the ranch in Ohio. Darol is showing cattle to investors daily, working on export items and dealing with cattle deliveries. When you call DCC specifically ask for the person in charge of that division and your request will be promptly handled with courtesy and efficiency. Ask about ordering semen, embryos, Bry Chutes, the LHTT ranch store items, cattle purchases, or Longhorn Hideaway home sites. As you know, your business is greatly appreciated at DCC.
Darol Dickinson
Darol Dickinson
is General Manager, and assists in sales of cattle. He does much of the photography and video tapes produced at DCC. Darol is in charge of advertising graphics, copy and the herd mating selections. When investors visit the ranch, Darol does personal tours. He writes articles for e blasts, and occasionally does articles for trade journals. Darol was president of the
International Texas Longhorn Association
from 1997 to 1999. He was a BueLingo Beef Cattle Society director and served on the board of World Watusi Assn. (He catches huge turtles for the local festival, but refuses to eat cucumbers, does not repair tractors, but does AI cows.) He loves grand kids that will learn, work and will look an adult in the eye and carry on a conversation. Darol and Linda started in the Texas Longhorn business in 1967. For information about this 50 year journey, read the book
FILLET OF HORN
.
Linda Dickinson
Linda Dickinson is Office Manager taking care of all the incoming mail. She does computer cattle inventories, cooks for ranch hands/grand kids, records wire transfers, does the church calendar, all billings, registrations, transfers, tax records for the CPA, and all USA semen shipments. All semen orders are processed and handled by Linda on a weekly basis. When ordering bull semen place your order with Linda. She is old fashioned - married to the same fellow for coming on 55 grueling years. One heck of a great cook.

(She does not brush hog, change bus oil, discipline grand kids or AI cows.)
Joel Dickinson
Joel Dickinson is in charge of all the physical cattle and land operations at Dickinson Cattle Co. He does welding, barn building, embryo transfers, timber, horn jewelry, fence construction and complete herdsmanship tasks. His responsibilities are the entire outdoor division plus he is working hard to master the office computer. He spends his days working cattle, negotiating with the timber industry, selling DCC hunting permits to fishermen, turkey and deer hunters. Joel and approved family members can be seen in person at 4 of the major annual Texas Longhorn events.
Joel is married to Misty. They have three children, Marshall, (Marshall just graduated from service in Germany and the USA for the US Army) Kara, and Bry. They live on the ranch at Longhorn Hideaway Development. (He does AI cows, makes intricate horn jewelry, but does not show up for IRS audits or press interviews.)
Kirk Dickinson
Kirk Dickinson is in charge of payroll, video sound production, the entire website, computer repairs, ranch security, IRS audits, everything graphic or high tech, the Texas Longhorn Celebrity Calendar and does some of the cattle hauling. Kirk has been DCC full time since 1994. Kirk does the website, ad layouts, camera ready ad copy, etc... (He enjoys children, but will not change a diaper.)
Kirk is married to Teu (Linda # 2) and lives with her on the ranch. His family assistants include wife Teu, Jazzi, and Dante'.
Teu Dickinson
Teu Dickinson has been with Longhorns Head to Tail Tours for years. She works with store inventory, bus tours, tour bookings, tour copy dialog, and guest hospitality. (She will get a tour bus stuck in deep mud, but will blame it on Rose.)
She answers phones, handles sales of beef, transports truck loads of processed beef, and shipping of skulls, mounted steer heads, Longhorn hides, and all the full line of DCC products, tools and decor related to the Longhorn industry.
Teu moves out at the crack of dawn loading up grand kids to make it to the East Richland Christian School. She is a dedicated grand mother/mother. If you meet a car slightly swerving, notice a grandmother on the phone and kids jumping back and forth over the seats - might be Teu.

Teu (Linda) is married to Kirk and lives on the ranch.
Doug Burris
Doug Burris - Has been at the ranch over 2 years and is doing it all. He hauls cattle, does AI, brands, pulls blood tests, halter trains calves, feeds on horrible cold or hot days, takes DCC cattle to shows, polishes skulls, does mechanical work, and works cattle. Doug has serious plans for a gal named Sarah and we wait for that announcement. Both Sarah and Doug received college education at Zanesville, OH. Sarah teaches school with a room full of little ratty kids that can't be spanked and will never get any better. She helps at the Longhorn Shows to promote DCC cattle. Doug is a natural rancher, but he never plays bingo, never drives under the speed limit or volunteers for the church nursery.
Grandkids
Dickinson kid crop. L to R Brice Dickinson, Austin Lenz, Kara Dickinson, Nicole (Lenz) McWilliams, Trista Dickinson, Larry McWilliams, and Shane Dickinson, - not shown Marshall and Bry Dickinson.
Most of these kids are just kids, but some are even more.
Brice can run like a spotted ape, throw a fast ball, build homes with the same skills as his dad, has a serious girl friend, and level headed as a Viking oresman. Brice works full time with his dad Chad and lives in Georgetown, Texas.
Austin can eat, haul cattle, poison bad weeds, build fence, had finished a bunch of college, is involved in building homes, and can gentle snakes. Austin works full time with his uncle Chad and lives in Georgetown, Texas.
Kara went to AI school, won Grand Champion Bull at the ITLA Championship, makes good grades, and don't eat good. Kara works here at Dickinson Cattle company, mostly in the Longhorns Head To Tail store.
Nicole is nearly tall enough to grab ducks with a rake and can find lost calves. She married Larry McWillaims in July 2017 and now lives at Ellicott, Colorado
Trista talks a lot, she eats, makes good grades, drives her teacher crazy, likes Sunday School, gets in your face, has an answer for everything, has legs long enough that both reach the ground and likes to cook serious stuff for her family.
Larry McWilliams just started his own Mobil RV generator repair & service business and works in the Colorado Springs, Colorado area.
Shane Dickinson can eat, likes girls older then him, eat, likes girls younger than him, can pick ticks off a dog and currently works for UPS in Austin, Texas.
Bry Dickinson doesn't eat good, he gets straight A's at school, plays video games all the time and. Bry works part time at Chick Fillet in St. Clairsville, Ohio and part time at Dickinson Cattle, Co. Bry is currently taking reservations for 2022 prom dates. (There is an application and background check.)
All together they can make more noise than a hung-over chip monk, a manure truck with a wheel bearing on fire, a stuttering parrot, or a crippled cat with it's tail under a deaf persons rocking chair. And they all go to church and we are proud of them.
Dela & Steve Lenz
Dela & Steve Lenz The Good Lord was kind in giving our family 3 sons and a daughter. Each family member is an important part in building Dickinson Cattle Co. Dela, our youngest and only daughter lives in Colorado. Her and husband Steve have an electrical business which keeps them very busy, but not too busy to make one or more trips to Ohio each year. Steve has installed the electric in the new barns, office, flood lights, and residence. Dela helps with the annual Fall Field Day - everyone who has attended knows Dela. Dela keeps up with her calves and pedigrees of cattle she owns on DCC. She is just like her mother, but less growth rings, always active with her family, helping the elderly, and working in her church. Steve is a master electrician and owns Steve Lenz Electric near Colorado Springs, CO.

Nicole (Lenz) McWilliams
Nicole (Lenz) McWilliams is the oldest Dickinson grand daughter. Nicole married Larry McWillaims in July 2017. They just moved home to CO. Larry started a Mobil RV generator repair & service business. He learned from his Dad who is in the same business. They are expecting their first child, a boy! In March 2022. Will be the first Great Grand Son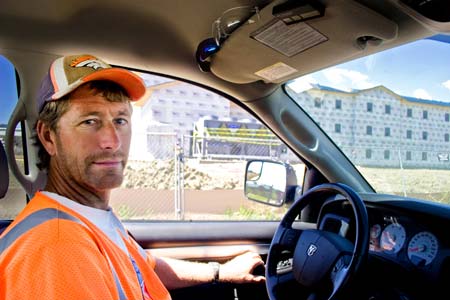 Chad Dickinson
Chad Dickinson has been in charge of construction and design of the homes, office, the LHTT Store building, guest pavilion and barns at DCC . His main talent is building huge multi angle homes for people with elegant taste, military office quarters, apartment complexes, and complicated developments that would drive normal people crazy just to read the plans. Click here for a few of Chad's projects. Chad lives near Georgetown, Texas with his daughter Trista. He is a premium custom home builder, many of his projects are on Lake Austin. When he built his first crooked, shabby tree house none would have ever dreamed it would come to this? (Chad loves thick steaks when he artistically applies the fire; he can walk a tight rope, four "friends" have broken bones while trying to ski as fast as he does, and he can sleep while small kids jump on his stomach. His son Brice works with him in construction and Shane is in college. Chad is known for perfection in high value custom building. www.dickinsonconstruction.net
Will Austin
Will Austin is not a DCC ranch employee, but a cousin to the ranch owners. Will attended the Dickinson School of Livestock Photography in 1984 and was one of several graduates who has achieved success with image skills. Check his site at www.WillAustin.com or www.luminanceflux.com. His graphics are dynamic and the depth of design and color will snap your suspenders. Will is headquartered in Seattle and travels the world over on assignments. Check his coverage of the inauguration shots. (Will cooks a wicked charcoal quiche shish-ka-bob, has changed many diapers, has a professional ballet performing wife and hates to be caught out of focus)
Cliff
Glen
Cliff and Glen are in charge of wildlife management at DCC . White tail deer are abundant closely followed by wild turkey, Canadian geese, coyotes, and trespassers. All may be harvested during the proper seasons. (Cliff likes to run 26 mile marathons, but sack hunting snipes is his highest ambition.) Contact C & G Hunting for hunting information. 330-388-2338 or 330-256-1510