Bred Cow List
Click on any listing for more information.
---
Kigoma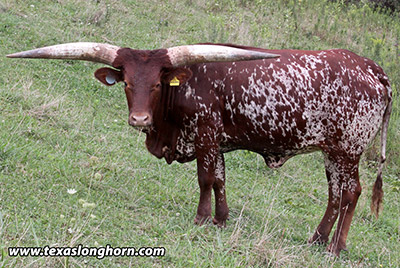 DOB:
7/7/2015
Sire:
Paxton;
Dam:
Pre Blue;
Color:
Drk R/W sp;
Service Sire:
Titan Wolf; She is 3/4 Watusi of the highest quality lineage and 1/4 Texas Longhorn. She will brighten a pasture. Although elgible to register at a 3/4 WWA Watusi, sells unregistered. Preg check pos to Titan Wolf (horns wide enough to reach two counties) Test neg Johne's.
Price: $2800
Sorry, already Sold. RSxOH
Natasha
DOB:
3/27/2009;
Sire:
Buffalo Bill;
Dam:
Zena;
Color:
Red;
Service Sire:
Titan Wolf, record lateral horn; This is a big 1260 lb daughter of legendary horn sire Buffalo Bill. She is a stunning pasture cow and eats from your hand. Preg test pos to Titan Wolf. Johne's test neg. Nine more of these cows would buy a beautiful Ugandan wife, if you need another wife. For an extra fee an unrelated herd sire included.
Price: $3900