Bred Cow List
Click on any listing for more information.
---
Kigoma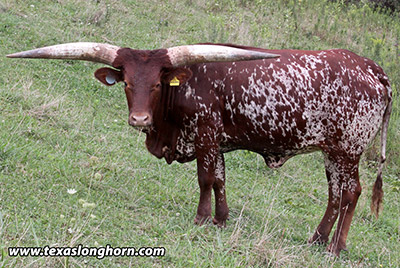 DOB:
7/7/2015;
Sire:
Paxton;
Dam:
Pre Blue;
Color:
Drk R/W sp; She is 3/4 Watusi of the highest quality lineage and 1/4 Texas Longhorn. She will brighten a pasture. Although elgible to register as a 3/4 WWA Watusi, sells unregistered. Test neg Johne's. Service sire: Judd's JD
Price: $2800
Mada Bright
DOB:
5/18/2014;
Sire:
Pretoria;
Dam:
Natasha;
Color:
W/R ears;
Service Sire:
Judd's JD; This unusual red roan Native Pure has produced fat pretty calves. All have been very African Colorful.
Price: $2300
Contact Dickinson Cattle Co., LLC
General Information:
Sales & Appointments:
Website:
Semen & Paperwork:
Herd Management:

Address:

Dickinson Cattle Co., LLC
35000 Muskrat Rd.
Barnesville, OH 43713
Phone 740/758-5050
Click Here For Map.