Bull 2022 List
Click on any listing for more information.
---
Scarlet Queen x Power Game - Bull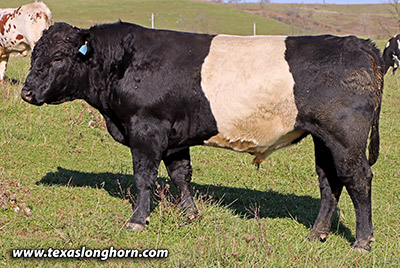 DOB:
3/27/2022
Sire:
Power Game;
Dam:
Scarlet Queen;
Color:
B/W; He is an AI son of Power Game, the best data of any Buelingo sire of record. He could be the best there is for the future. Everyone at DCC loves his beautiful dam. One nice BueLingo female included with an additional price. Correct belts on his first 25 out of 28 ancestors. Very few Power Game bulls out there still.
Price: $3000
Sorry, already Sold. MFxCO
Silver Ridge
DOB:
5/1/2022;
Sire:
Top Zone;
Dam:
Smoke Wrap;
Color:
Grul/W; Seldom can DCC raise a rare silver BueLingo. He has a sweet low 61 lb birth weight. The BueLingo association does not require registration of silver belted cattle. That saves money.
Price: $3000
Contact Dickinson Cattle Co., LLC
General Information:
Sales & Appointments:
Website:
Semen & Paperwork:
Herd Management:

Address:

Dickinson Cattle Co., LLC
35000 Muskrat Rd.
Barnesville, OH 43713
Phone 740/758-5050
Click Here For Map.