Click on any listing for more information.
---
Titan's Taonga x Judd's JD - Bulll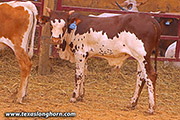 DOB:
5/3/2020;
Sire:
Judd's J.D.;
Dam:
Titan's Taonga;
Color:
R/W mdln; This is the top 2020 Watusi bull born at DCC. His pedigree combines the best international AI sires. Look at the early horn growth and crazy African color.
Price: $2000