Reg.:
I-238410
DOB:
5/19/2003
Color:
R/W
Weight:
1315
(on 6/21/2013)
Horns:
70.25
(on 11/21/2017)
Service Sire:
Top Caliber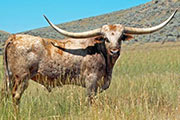 Price:
$4500
Sorry, already Sold
DSxTX
Play The Raffle Play The Raffles has never been offered for sale before. She has been right in the middle of the main genetic base at DCC. She weighs 1265 lbs and over 70" T2T. She is a half sister to the dam of Winchester. She is dam of Look Out, Tempting Play, Raffle Drawn, Clear Plan and Tibb Play. Top Caliber heifer calf at side born 4-6-18. Johne's test neg.
This is a presentation of a Dickinson Cattle Co. LLC Inventory Item. This presentation was printed on 5/19/2019. Prices are subject to change. Please check the current item price and description at
www.texaslonghorn.com/inventory
. Or contact your DCC sales representative.
Thank You for your interest!