The more cattle are handled in a controlled drive the more obedient they become. At DCC several times a week a whole pasture of cows are driven to the east or west corral. If a cow is sold the whole pasture is gathered to remove the one cow. This is a normal sight right down the middle of the road. If a public tour is taking place the ranch bus is slowly driven right down the middle of the herd so a sea of horns are on every side. The guests love it.
This is one of my favorite cows, Play the Raffle. Over 1200 lbs, milks like a dairy cow and stays fat year round. If you like this cow you will like our herd in the next few years. We are headed this direction in a dead serious way.
It was fun to help Johnnie Hoffman to start his great herd of cows that made a serious impact on the breed -- and still does. He purchased bulls Dixie Hunter, Texas Freckles, Dixie Ruler and Emperor from DCC . Over the first 5 years of his herd development he purchased 19 of our best females. He was a great gentleman and wise genetic planner. Today he is most famous for having one of the largest oil platforms in the Gulf named the "Johnny Hoffman." I miss him. Photo from the ebook FILLET OF HORN II -- from Amazon
The DCC bulls are on the scruffy side coming out of winter. Can't wait until they slick off and some better photos can be snapped. This is Annex, just past his second birthday. He is by Drag Iron out of Jester by Winchester. His first calves are here and will soon be added to his reference sire section on the
Today a DCC eBlast went out with this new photo of Clear Win doing grass. If you did not get this email you are not on the DCC mailing list for good Longhorn stuff. To get on the list email info@texaslonghorn.com and tell us you want included.
At the World Show in 1988. This was early-on when all the yearling heifers showed in one class. There were 86 entries in the 1987 heifer class in 1988. The winner was Queen of Kings by King out of a Don Abraham daughter named Melody. L to R. Joel, Darol and Linda Dickinson. The following year the class breaks were divided to 4 classes. This was the largest class in the history of the World Show or any Longhorn show system. She was later purchased from DCC by Bill & Sue Burton and became the foundation of a large part of both the DCC and Burton herd.
There are 3 cows that I believe appear in more registered TL pedigrees than any other cows. For some history -- from 1940 to 1972 there was one TL sale annually at the Wichita Refuge, that was it. To attend that sale was exciting. If you did not buy there, you did not have another sale for a year. In 1967 I first saw WR 1005. Chills went up my back viewing her huge horn. She was considered sisters in quality to WR 1052 which we will discuss next week. Both were considered the top TL cows ever. Both were over 50" and the pride of WR. Both cows produced one productive bull that we will discuss later. 1005 was dam of WR 2308. That made WR 1005 the grand dam of Pearl, the dam of Delta Diamond, the dam of Tabasco. It made 1005 the grand dam of Senor Mulege, the sire of Doherty 698. It made WR 1005 the great grand dam of Twist 21, the star of the first Magnificent Seven cows. As a result she is in pedigrees of 3 strong multiple TL lines with great numbers. Every great animal must have something genetically strong in their pedigree. Alligators do not have puppies.
During the 1974 Wichita Refuge sale the biggest calf of the day sold. He was light brindle (most brindles were pale, not bold like today) and he had a little too much under skin. I really wanted to get a source of brindle in the herd and no really good cattle were brindles. I passed on him also due to his crazy ring conduct trying to eat the WR ring men. Bobby Garrett bought him and named him "Snuffy." He soon settled down and became one of the best looking WR bulls. He was out of a daughter of famous WR 1814. After considering his qualities, I bought him from Bobby Garrett. During his life he was used by DCC , Wright Materials and Travis Marks. We still have some semen on him. We changed Snuffy's name to "Bell Ringer" for a more positive advertising plan. Bell Ringer sired Widespread who was a stronger brindle. When Widespread was bred to Doherty 174, a daughter of Doherty 698, Miss Widespread was born, bred by Dominion Syndication of San Antonio. Miss Widespread was bred to Circle K Donovan, a son of Senator and Jamoca was born for Tom Smith. Tom bred AI to Shadowizm and Jamoca produced WS Jamakizm who was bred to Shining Victory and there you have Drag Iron. It only took me 40 years to get the bright brindle, over a ton, nearly 84" joy of the DCC pasture, Drag Iron. Some things take time. Great things take more time.
The Wichita Refuge herd was the last of the unique 7 families assembled. Although the original stock were purchased in the general area of the other 6 families, there is no recorded genetic connection. Since 1930 when the WR herd began it's genetic blend there were very few introductions from the other 6 families except from the Yates blood. The Yates blood was somehow approved to introduce to the government herd, possibly in exchange or as a gift. In 1965 the WR leadership determined that the base herd was getting extremely in-bred. A deal was struck with J. G. Jack Phillips to do a bull trade. The WR could go to Phillip's Battle Island Ranch and select a bull and Phillips could go to WR and select a bull. Phillips selected WR 2031, a brindle bull with over 40" horn, almost a record at that time. In the book FILLET OF HORN there is a photo of Phillips and WR 2031. Phillips was very pleased with the bull and used him for his whole life. In fact the bull Clear Win's dam goes back to WR 2031 five generations back. The WR people selected a bull from the Phillips herd who they named JP 3 (pictured below). He was selected for the WR herd to add horn and additional red color. The WR people were not pleased with their selection although Phillips offered them over 3 dozen bulls to choose from. JP 3 sired WR 2615 who was black and white and used for many years by WR. JP 3 was much larger than the inbred WR bulls and was a ruthless fighter. As a result, the WR cut off his horns to give the smaller bulls an equality. Equality is not a new thing in government. JP 3 was born in 1965 and sold by WR in 1972.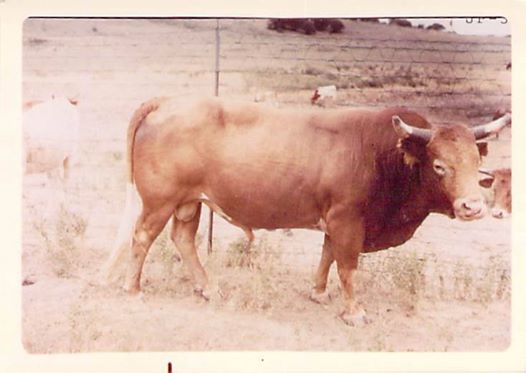 When I was working out the pattern for the "Fitted" halter, this shot was taken of Impressive showing the way a halter should fit a Quarter Horse. The same halter pattern had been used on Man O War and draft horses for hundreds of years. The Quarter Horse had a more brilliant head and it needed to be displayed. I worked on this pattern and carried one with me on all photo shoots. Here are points to evaluate a correct fitting halter to make the most of a head.
1) The nose piece should cut directly in the middle between the nose and eye.
2) The horizontal jaw piece should cut half way between the bottom jaw and horizontal between the eyes. It should split the middle.
3) Where these connect should be "T" hardware to form a perfect T.
4) Nothing should hang below the jaw or throat.
5) The ring below the ear should have such placement that the strap behind the ears "never" slides back on the neck.
6) No lead chain should show up the jaw.
7) Lots of silver helps hide a bad head. A great head is best displayed with minimal silver.
It was very hard to explain this to QH show people in 1970. Now the pattern is fairly closely accepted. DD