"Gun Man" ~~ On March 1, 1979 I was setting on a feed bunk at Liberty, Texas and did the deal to purchase the entire "Uncle Dode Partlow" TL cow herd. (It was a semi-full). A pretty spotted cow, probably sired by Conquistador, lay down across a small swamp and gave birth to a mostly white looking calf. As a young calf there was a lot of skin under him and I did not think of him as a herd sire prospect, however Bob Shultz (see chapter one in the FILLET OF HORN book) bought him and his dam, Shenadoah and registered him as Colorado Cowboy. I was wrong, he was a breed improver. Colorado Cowboy sired G-Man for Rex and Sherese Glendenning.
In the late eighties G-Man was the widest horned bull in the breed. I purchased 100 straws of semen from G-Man and bred him to several Senator and The Shadow daughters. Once the 100 straws was used up, the young bull Gun Man was born out of a Senator cow, when DCC was in Colorado. Later the famous over 100" steer Sequoia Man was born from one of the 100 straws. Gun Man was bred to cows by DCC as a yearling. He was the widest horned bull of that year's crop. Ron Jones of Salida, Colorado had purchased 3 herd sires (Rangago, Jump Start) and needed an unrelated 4th bull. Ron bought Gun Man and bred him to Rangago and Jump Start daughters. As a result Ron, who was a dentist, retired from looking down throats and became a very successful Texas Longhorn producer and has raised truck loads of great cattle mostly all going back to Gun Man.

G-Man sired Heavy Hitter who ruled as the widest horned bull for years, and still stands tall at 84.5" T2T.

As a result of Gun Man's genetic strength he can be found in the pedigree of famous cattle, Cowboy Tuff Chex, Rodeo Max, Auze EOT, Rio Grande, Grand Slam, Vanilla Milkshake and herds of great cattle in every state.

The many times Champion, over 100" steer Sequoia Man was sold by DCC to Wayne Forester, then Bill Hudson, and several lovers of awesome steers have owned him. And the rest of this story is -- this very week, Sequoia Man has been purchased by DCC , from Lazy J Ranch, and is riding east to spend his senior years at DCC in Ohio. See him at DCC and watch history walk the Appalachian foothills near Barnesville, Ohio
DON ABRAHAM ~~ Many famous bulls had long names and history chose to shorten them. He was Bar M Don Abraham 3/0.
The Wright TL herd had a high horned silver grullo cow who was beautiful. Her registered name was Damn High. Many tried to bu>y her and finally Jack Montgomery got her for $30,000 in 1980 bred to Don Quixote. She had a thick black spotted bull who won some shows; he was very correct. I thought Don Abraham was the best black carrier by Don Quixote and tried to buy him from Montgomery. Montgomery tried to collect semen on Don but was unsuccessful at every collection place used. DA produced mixed liquid semen with electro ejaculate technique and was impossible to collect with an artificial vagina. When men with the AV came up close to him he would drop down and refuse to service. Montgomery spent a lot of money wanting to collect him. There was a lot of interest in purchasing his semen.

The day came when I traded my half interest in Measles Super Ranger for Don Abraham. I had a plan. We immediately started a training process for DA semen collection. About every 3 to 5 days we would put DA in a pen about 30' square with a cow in the middle of standing heat. When he decided the time was right and started to mount the cow, Za Johnson, DCC ranch manager would approach him from the right flank with a white 5 gallon bucket -- he immediately dropped off and refused service. He was removed from the pen. The same process was repeated over a dozen times. Finally about the 20th time in about a 2 month span, he serviced a cow with a bucket pressed against his lower flank. With a few more training sessions he was trained to collect being touched by a white bucket, and off to the semen collection center he went. All the frozen semen ever used from DA was collected that following few weeks.

As a result of the Don Abraham influence he sired Signal, the dam of Circle K Donovan. He also sired Rose Blade the grand dam of Gizmo, sire of Winchester. He sired Abraham All Age World Champion Bull. Way back in the pedigree of Iron Hail, you guessed it, there is Don Abraham. Today if you breed to Drag Iron, Jamakizm, Iron Hail, Clear Win, Winchester, or many of the great Loomis cattle, there will be Don Abraham in the foundation and possibly the one single sire who passed on the black genetics to most of the black base cattle of today. Now you know the rest of the story and the importance of a white 5 gallon bucket that helped create some historic genetics.
Wright 489 ~~ is in more TL pedigrees than all but 2 or 3 other cows. She was bred by Wright Materials of Robstown, Texas and purchased by George Cobb of Cadiz, Ohio as part of several dozen cows shipped to reclaim mine land owned by Conso>l Coal. She is much like hundreds of Wright cows that were breed leaders but over looked due to the lack of promotion of Wrights. They had a herd of around 400 purebred TL cattle during the seventies. George Cobb bought a bull named Senor Mulege by WR 2308 to breed the Wright cows.
Frank Doherty of Ft. Scott, KS heard about the Ohio cow herd and negotiated a deal to purchase the whole herd. He was especially excited about the heifer calf at side on Wright 489.
For many years a major sale was the Baker/Doherty sale the same week of the WR sale in Lawton, OK. To bring the crowd alive Frank decided to auction Wright 489. I wanted this cow bad and the heifer at side, also by Senor Mulage. In the final bidding I had to bid against Kassel Ost Ranch of Saline, MI. I bid $10,000 which was the highest price ever bid for a TL cow in 1978. Kassel Ost bid $10,200 and I let them have her. We had just sold Texas Star the previous June for $10,500 and I didn't want to break his sale record. No one knew at that time if ever any animals would bring higher prices.
After the sale I ask the Kassel Ost people what they would take for the blue roan heifer and they said $1000, so I gave them a check and later registered her as Bathsheba Fenklestein. I sold a heifer from her to Johnny Hoffman by Texas Ranger named Ranger's Bathsheba who he said was his biggest cow, and an early favorite in his herd.
The earlier daughter of Wright 489 was registered by Frank as Doherty 698.

In time we did a partnership agreement and got to do embryo transfers at the DCC lab in Colorado on both Wright 489 and Doherty 698.

Doherty 698 gave us Overwhelmer and Phenomenon. Of over 200 other calves by Senor Mulage, Wright and Doherty, nothing equaled the breed contribution of those two great bulls. Of course Overwhelmer sired Emperor and that was the crown of the Hoffman great cow families.
Of the seven families, the WR herd was over rated and the Wright herd was under-rated. At DCC we still sell semen on Overwhelmer if anyone wants to see history come alive again.
Royal Mounty was not a well known bull and was almost even less known. He was bred by Kenneth Archer of Seiling, Oklahoma. He is registered as sired by Trail Boss an all WR bull that Archers owned. His dam was an all WR cow named Archer #1. That made him an all WR bull, yet he had a wider spread than any WR bull in history. When he was consigned to the National Western MPTLA Sale, even though he had more horn than any bull in the sale, the sale committee sifted him. Although not in the sale John Brittingham purchased Royal Mounty. (Remember John Brittingham also bought Cowcatcher and sold him in the NW sale.) Royal Mounty was bred to Terry Kelsey's daughter of Texas Ranger, Miss Texas Ranger 262 and a huge bull was born in 1981. This was "King" who was also a solid red bull that was not in good favor as a value color. "King" was sold to Bill Harding of Hardings Nursery in 1982 to breed to Hereford heifers. As "King" developed he got larger horned and larger of body. In 1984 Alan Sparger saw him and couldn't use a red bull. "King" developed into the first TL bull to be over 60" and over a ton. Finally he was purchased back by DCC and soon after his son Zhivago was born. Zhivago sired Gizmo, who sired Winchester, who sired Win Win who sired Clear Win who sired Clear Point. "King" also sired the grand dam of Super Bowl. "King" was the great grand sire of Jamakizm. Field of Pearls is a double bred "King." With the increased family fame semen was collected on Royal Mounty, he was blood typed, but did not blood type to Trail Boss, but did blood type to Texas Lin also owned by Archers. Although the blood type findings were not publicized, some times Royal Mounty was presented in sale catalogs as Trail Boss and other times at Texas Lin. "King" was owned by DCC , Carroll Shores, El Coyote and Micky Wood. Semen is still being used. And one last thought -- "King" is the only bull ever registered with his name in "parenthesis."
It is a great honor at DCC to have raised the newest bull to measure 80" and be added to the Craig Perez Club 80 ---- "JAMSTER." Congratulations Brian Brett for selecting this young bull from the DCC inventory and developing him into the famous bull he now is. We are honored. There is strength in this pedigree which combines Jamakizm and Winchester, two greats of the breed.
Bell Ringer - During the 1974 Wichita Refuge sale the biggest calf of the day sold. He was light brindle (most brindles were pale, not bold like today) and he had a little too much under skin. I really wanted to get a source of brindle in the herd and no really good cattle were brindles. I passed on him also due to his crazy ring conduct trying to eat the WR ring men. Bobby Garrett bought him and named him "Snuffy." He soon settled down and became one of the best looking WR bulls. He was out of a daughter of famous WR 1814. After considering his qualities, I bought him from Bobby Garrett. During his life he was used by DCC , Wright Materials and Travis Marks. We still have some semen on him. We changed Snuffy's name to "Bell Ringer" for a more positive advertising plan. Bell Ringer sired Widespread who was a stronger brindle. When Widespread was bred to Doherty 174, a daughter of Doherty 698, Miss Widespread was born, bred by Dominion Syndication of San Antonio. Miss Widespread was bred to Circle K Donovan, a son of Senator and Jamoca was born for Tom Smith. Tom bred AI to Shadowizm and Jamoca produced WS Jamakizm who was bred to Shining Victory and there you have Drag Iron. It only took me 40 years to get the bright brindle, over a ton, nearly 84" joy of the DCC pasture, Drag Iron. Some things take time. Great things take more time.
WR 1005 - There are 3 cows that I believe appear in more registered TL pedigrees than any other cows. For some history -- from 1940 to 1972 there was one TL sale annually at the Wichita Refuge, that was it. To attend that sale was exciting. If you did not buy there, you did not have another sale for a year. In 1967 I first saw WR 1005. Chills went up my back viewing her huge horn. She was considered sisters in quality to WR 1052 which we will discuss next week. Both were considered the top TL cows ever. Both were over 50" and the pride of WR. Both cows produced one productive bull that we will discuss later. 1005 was dam of WR 2308. That made WR 1005 the grand dam of Pearl, the dam of Delta Diamond, the dam of Tabasco. It made 1005 the grand dam of Senor Mulege, the sire of Doherty 698. It made WR 1005 the great grand dam of Twist 21, the star of the first Magnificent Seven cows. As a result she is in pedigrees of 3 strong multiple TL lines with great numbers. Every great animal must have something genetically strong in their pedigree. Alligators do not have puppies.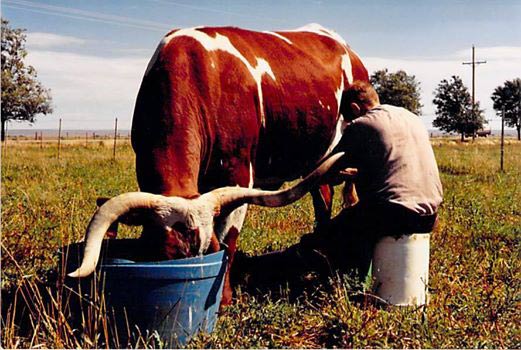 This is Rambling Rose the 6 generation back grand dam of Clear Win. She gave so much milk the calf couldn't drink it all. Every morning Za Johnson went to the pasture and gave her a gallon of grain and milked a gallon of milk. One day his family drank it, the next day our family did. She would provide for our fresh rich milk needs for about 5 months. When we couldn't keep up with it, we made ice cream. The Clear Win daughters are starting to calve now -- guess what? They are good milkers. How could that be? DD
Crayola with 91" T2T during his 4th year is on the road moving to Texas. You may see him in some shows this year and he may be pretty impressive. His dad, Juma, will be following him to Texas after finishing the 2014 breeding season in Ohio for DCC .