Texas Longhorn Mating Strategies
By Darol Dickinson
---
Note:
The weights and measurements may often not represent the current sizes. Many of these bulls were raised and used by DCC and sold, never to get adult corrected data. Data under Reference Sires and Semen Sires will be more current.
---
Annex - He is a DCCI dream blend with the popular Drag Iron -- Jester blend. This connects the great Winchester and Jamakizm. His calves are mostly very speckulated from nose to tail, tiny heads and huge hips. His correctness will demand polite gentlemen to remove their covering and savor a moment of silence. Annex has agreed to finish the breeding season for his famous sire. What large hooves to fill???


---
Bail Jumper - He was the early breed leader for correct conformation, consistent attractive spotted colors and unbeatable show conformation. He dominated the shows at the highest levels. He was World Champion Get of Sire and sired the World Champion All Age sire Risen Star. Bail Jumper is by Cowcatcher and out of Rangers Measles. For years his semen was closely held by the owners until purchased by DCCI. Now Bail Jumper semen is available. Use him to raise tall long correct type cows with trim necks, perfect udders and conformation still able to win at the highest show levels. His close up Rangers Measles and Cowcatcher make him a good choice for rate of beef gain.


---
Bold Ruler - He is an all Butler bull, sired by New Sam out of Miss Dayton. Most people believe that Bold Ruler was one of the top ten sires of "long horns" in the Texas Longhorn breed. Although Bold Ruler himself had horn measurement of just under 50" tip to tip. Some of his daughters sported 60" tip to tip. Bold Ruler is a medium sized Longhorn bull with a slightly nervous disposition that is often transmitted to his offspring. He was an early foundation Butler bull, but modern data has left him behind.


---
Bouncer - Bouncer is sired by Copy Cat and is a blend of Butler, with Wichita Refuge, Texas Ranger & a slight touch of Yates breeding. Bouncer is famous for his ability to sire unbelievably huge horned steers with huge base circumference. He is the leading sire of huge circumference horn in the history of the Longhorn breed. He often sires calves with brindle & lacy faced coloration. Bouncer was bred and raised by Robert Shultz, purchased by Dickinson Cattle Co and then sold to the famous wrestler, Andre The Giant. His steer sons are famous in Colorado and still winning Championships under the toughest competition. El Sid and Hop along-Chastity are the most famous, although a number of Bouncer progeny had huge horn base. El Sid has 26.5" horn base circumference. This was the special huge horn base that only Bouncer sired during the eighties and nineties. The World Champion bull Clear Win is a line bred Bouncer.


---
Buckshot - He is sired by World Champion Get of Sire, Bail Jumper & his dam is Ranger Yet by Texas Ranger. Buckshot is a speckled, gold & bronze coloration with very complete quality type. He has sired some beautiful females with very straight backs & very correct structure. He is much like the famous Measles Super Ranger, yet his horns are slightly longer with much more body size. A Buckshot daughter produced Boomerang who was the great horned bull of the TLBAA 2000 show circuit.


---
Classic - He is sired by Bevo, out of the famous corkscrew horned cow Beauty. Beauty was the first cow recognized in the Texas Longhorn breed with over 60" tip to tip. Classic was once syndicated for $1,000,000 & many feel that he is the leading sire of the longest tip to tip horned cattle in the breed. He holds a unique designation in that he has sired numerous highly respected sons & also daughters. (This is an unusual trait, but one possessed by every truly great sire.) A cow bred to Classic will often produce a white calf unless mated to a solid dun, red or black female. Classic will sired very long horn & very feminine females. His 60" was a record in his day but not close to modern sires of over 80".


---
Clear Point - On 10-4-14 he measured 77 5/8 inches T2T, and wonTLMA Longhorn Expo Triple Champion, World Champion Horn Showcase Tip to Tip, Total Horn and Composite. Six bronze trophies -- Six Championships. Huge base is not the whole world at DCCI, but it sure is to some of our valued clients. If increased body size, muscle, T2T and base are important, consider Clear Point. He is a genetic bounce of special value from a long line of planned bounces in the right direction. Current T2T at under 42 months 86.5 inches. He is a genetic bounce of special value from a long line of planned bounces in the right direction. Current T2T at under 42 months 86.5 inches.


---
Clear Win - This prime specimen is for those who want an extreme conformation to correct faulty genetics. He comes with a 59 lb birth weight and will blow past a ton at maturity. He has great conformation, thick muscle, huge forearm, hip personified, record horn T2T and a pedigree documented back to the breed's greatest proven ancestors. See his sire, Win Win, for a glance at his mature appearance. He has a sire lineage all over a ton for 5 generations. He won 2012 World Champion T2T with the largest horn base in history at 19-11/16." Horns 82" at 44 months. He is the forward jump! See him on You Tube.


---
Coal Smoke - He is sired by Senator and out of Impressive Choice by Impressive. He is a full brother to World Champion Senior Cow, Senator's Choice who is the dam of Marshall & Ain't Gunna. His dynamic silver grullo pinto color is one of the most appreciated and unique of the old Spanish colors. He sires the complete quality package. His muscle and huge frame makes him a breed leader in that trait. His horns measure just over 61-1/8" He is the top silver grullo of the industry. Select him for high dollar grullo progeny. See him on You Tube.


---
Don Abraham - He is a son of Don Quixote, out of the famous Wright cow #1042. His beautiful mother sold for $30,000 & produced Don Abraham after the time of her purchase. Don Abraham is the sire of Abraham the All Age Grand Champion bull at the World Show in 1995. Don Abraham is more highly appreciated for his ability to sire wonderful females than herd sires. Use him for type, black, and trim necks.


---
Don Quixote - He is an all WR bull & by every calculation is rated as the most popular WR bull of all times. He was completely black with a few white specks on his hips. His siring ability has excelled beyond every WR sire of record. He has sired more sons with over 50" horn than any other WR bull. His most famous son is Don Quintana or Don Abraham. Only a dozen or so units of semen remain available. Over 95% of all great pure black or black and white registered Longhorns trace to Don Quixote in their pedigree. He often is the only traceable source of original black in the entire pedigree.


---
Drag Iron - 2014 Horn Showcase World Champion Composite. For a high octane pedigree how about 55 times line bred to Texas Ranger and 23 ancestors over 80, 70, or 60 T2T. Look at the wheel base, earthy-inky chocolate brindle colors and knock your sox off anatomy. Horn 84.5 inches. Total horn 104. Composite 220.93. Look at his magic formula of trim and thick---almost unheard of. Semen available in Australia, USA, New Zealand. Purchase his progeny from any of the major producers.


---
Fielder - He has a brilliant total presence. He's 2020 lbs. He's a speckled dark walnunt color. He sports an award winning disposition. He has great leg soundness. Horns just near the 60 mark. Sires bronze speckled calves. Sired the two largest horned females of the DCCI 2000 heifer crop. He has it all. Sire is Zigfield by Zhivago and out of 60" cow Impression by Measles Super Ranger and out of an Impressive cow. Sire of ITLA Champion Field of Pearls. He is getting famous for his great producing females. His daughters have producted Over Kill and Tempter.


---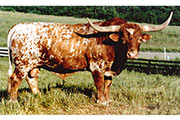 Gizmo - He is the leading Longhorn sire of thickness. Many use Gizmo to add substance, color, and milk production to herds. He is sired by Zhivago and out of Blazon by Jet Jockey. Blazon is out of Rose Blade by Don Abraham and out of Ranger's Rose by Texas Ranger, out of the famous Butler cow Rose Red. This blend pedigree combines the greats of the breed. Those desiring thickness and rich red appaloosa color go for Gizmo. Gizmo is the sire of International Champions Paladin, Winchester, Remington, Detonator, Legacy ITLA Champion, Gizette and numerous beef type and colorful progeny. He weighed 2120 off cows in his prime. He sires more thickness than any bull used by DCCI. See him on You Tube.


---
Impressive - He was sired by Don Quintana, out of Ranger's Measles. He was born in 1978 & still commands the respect of the show ring, the auction ring & the embryo laboratory. His calves are still capable of winning under the toughest competition & often are beautiful black & white speckled, like Impressive. Many of the very expensive cows in the industry have been flushed for embryo transfer with Impressive due to his very correct type, perfectly straight back, very trim underline, 51" horn & a beautiful perfectly balanced body. He was the correct blend of Don Quixote with Texas Ranger & Measles breeding. Use him for correct "Measles" type - black speckled show calves.


---
Jamakizm - Jamakizm was bred by Tom Smith and developed by Dick Lowe. When he was first collected DCCI purchased 100 straws of semen and some really great things happened. From the first year's AI the great bull Drag Iron was born then Juma and Jamster. Jamakizm by Shadowizm, added the dark minimal-white pattern with consistent brindle. His body is one of the tallest and longest of modern TL sires. His greatness comes from the strength to sire great males and females which few bulls can successfully sire both. Horn 83" T2T. Jamakizm, although never owned by DCCI is a great contributor to modern value genetics. 75% of his genetics are DCCI. He is one of the great sires of all times.


---
Jet Black Chex - Jet Black Chex is a very different Rio Grande son, and blacker than a skunk's arm pit. He is 78.75 inches T2T, a straight trim profile, pretty head and nice lateral sweeping horn shape. For those who like black and need an out cross to Over Kill or Over Head, here he is. He is believed to be the widest horned all black bull in the industry. Use him to reduce white, darken dish water colors and for correct show conformation. DCCI has been hunting a different style of Rio Grande and he is the final sought-out one.


---
Jet Set - He is a dark red spotted 65" horned son of Bail Jumper and out of a Classic daughter. The Bail Jumper cross on Butler females is the finest blend found for Bail Jumper. Jet Set's calves consistently have the show qualities of his World Champion siring father but possess more horn. Use him to get consistent dark red spotted high quality calves. He is the sire of numerous serious show winners including Cutting Blade, High Tide, Jumbo Jet, etc.


---
Jubal Jangler - Jubal Jangler is the oldest son of Shadow Jubilee in sire service. He bred 2 years in Nebraska at McIntyre Ranch. With his black speckled parents his calves are highly colorful. His 77" tip to tip gives ample reason for confidence in his progeny. His sire is 79.5" and his dam was voted ULTIMATE COW at the 2010 World Show, now closing in on 90". Although no semen is available from Jubal Jangler at this time semen is $35 from his 5/8 brother, Trial Run. Cows bred to JJ are available from DCCI. JJ offers a great opportunity to add the famous Shadow Jubilee genetics to the national bloodlines.


---
Juma - His sister Jester was the 2009 All Age Non Halter ITLA Champion cow, and Call of the Horns champion with 83.25" as a 8 year old. He is bold brindle with gold, white, rust and black stripes. His untanned speckled wrapper is beautifully opulent on his daughters. His planned mating goes back to 1967 with all the great proven sire combinations. Any herd lacking value-color needs to add Juma to their genetics. He is the sire of Tibbs, Whisper Pop, Jolter and News Flash.


---
King - He is a son of Royal Mounty, out of a daughter of Texas Ranger named Miss Texas Ranger 262. He sports 64" horn. King sold at public auction at age 14 for $8,700 as a natural service sire. He is totally sound & a capable breeder even into his teenage years. The $8,700 price was the highest price paid for a natural service bull in 1995 of that age. He has the miraculous ability to sire tremendous sons & tremendous daughters. He sires size, substance, horn, & body. Due to his red color he has often been used on cows with a lot of white. For best results, he should be used on cows with tight skin. He was one of the first Longhorns to reach mid 60" horns and is still competitive years after his death. Semen is economical. His daughters give abundant milk and heavy weaning weights. His most famous son is Zhivago.


---
Lethal Weapon - He is sired by Tri-W Lady's Man, out of a daughter of Broken Arrow by Texas Ranger. Lethal Weapon is believed to be one of the longest & tallest bulls in the breed. His horns are above 56" tip to tip. He should be used on cows where height & length are desirable. Lethal Weapon was All Age Grand Champion ITLA bull in 1991. He would do the most to improve cows that are short or small. His top weight of record is just over 2,100 lbs. Use him for length, type and height.


---
Lots of Flare - Lots Of Flair is a 3/4 brother to Drag Iron and to date, right in the same foot steps as his World Champion relative. He is the DCCI mating choice for heifers sired by Tempter (85 T2T), Clear Win (86 T2T), Jubal Jangler (79 T2T), Jolter (75 T2T), Win Win (73 T2T), and Over Kill (80 T2T). Lots Of Flair would appreciate a kind word of prayer as he faces the greatest test of his short life -- can he sire great calves ?


---
Mile Marker - He is a maroon lacey faced bull with 71.5" horn T2T. He is by The Shadow and out of a daughter of Unlimited. He is a 3/4 brother to Shadow Spear the widest horned 5 year old steer in history. He is a half brother to Shadow Jubilee the first cow to pass 80" T2T at age 7. Mile Marker is part of the younger generation that is the icing on the cake from the best of the foundation sires. This new generation of plus 70 sires are replacing the old sires before them. He has it all with nearly a ton weight, perfect disposition and a high percentage of growthy calves with lacey faces and wine colors. Use on low horned cows with good top lines, that aren't all white or all solid colors. The results are skedaddling horn, and genetic dreams coming true.


---
Monarch - He was an old foundation Butler bull. He is respected for his many daughters who have sold well and developed over 50 and 60" horn. His top sons are Laramie and Farlap. He is one of the smallest of the Butler bulls and should be used on cows with good size. Most of his calves are white; to get a desirable color it is best to breed him only to cows with no white at all. Monarch steers are perfect for roping as they grow rapid horn and retain a small body.


---
Not_Gunna - He is sired by Gunner, out of a daughter of World Champion, Jet Jockey. He matured to 60" T2T. Not Gunna is a beautiful blend of many of the greatest cattle in history. He is a 5 times line bred to Measles or her dam. His strength of genetics is phenomenal. His calves are consistently straight backed, trim and pretty. Use him on rough, coarse cows to get smooth progeny. He can straighten sway backs, droopy hips, heavy navel, sloppy neck skin and fix ugly heads. Semen available in Canada.


---
Over Head - He is a son of Head Liner, out of the great clone cow Over Lynn. He was ITLA International All Age Champion Bull in 1999. He is the first true black base bull to grow over 6' horn T2T. He measures 73.33" T2T in 2007. He represents the great Don Quixote homozygous black factor which is the strongest line in the Longhorn industry. He is the sire of very large-horned spotted, trim, black and whites. No other true black base bulls rival OVER HEAD except his son OVER KILL. If you want, and like black, and avoid this family, the devil is squeezing his nasty fingers over your good eye. Recommended for light colored cows where improved conformation, structure and values are desired.


---
Over Kill - He is a son of Over Head and out of International All Age Champion ITLA Female, Field of Pearls by Fielder. His credentials are similar to his sire in many ways. He is a strong black sire. His calves are very long legged and tall. His calves have perfectly straight backs and trim fronts. Over Kill measures 80" T2T. Over Kill has low lateral swept back horns which is a great mating strategy for high horn or forward horned cows. Bulls like Over Kill totally replace hundreds of foundation bulls for total quality and genetic values. He will have numerous calves in Australia and Europe.


---
Overwhelmer - He is sired by Cowcatcher, out of the famous Doherty 698. Some feel Overwhelmer, a many times World's Champion Sire & World's champion Get of Sire himself, is the superior sire in the history of the breed. He sires size demanded by the commercial and show industry. He combines both opposite segments of the industry in one bull and also consistently sires dark red and spotted animals. His most famous son is Senator. Numerous other sons of high regard are scattered around the nation. Semen is limited because very little semen was in inventory at the time of his death.


---
Play Boy - He is the son of Bold Ruler, out of Keechi Valley 78. He is one of the more well known breeding sons of Bold Ruler. He possesses a speckled color & a high type horn shape, unlike many of his family. His dam was a high horned cow. He is known for siring beautiful curvaceously horned females of medium size. Some of his offspring had very pretty color. Some who use Play Boy, feel he is a sire of beautifully horned cows. He is the sire of Tango and grand sire of Roundup. Some of his calves are nervous like his sire Bold Ruler. This makes them great for steer roping.


---
Quill - He is sired by Lockhorn, out of Choya, by Don Quixote. He was the tallest & longest, black Texas Longhorn bull in the early industry. He has 56" horns tip to tip. He does many of the same things for his progeny that Don Quixote did, except he sires more height, length & horn. He has the small ear, trim underline & the big bold Mexican appearance. Quill sires about 40% brindle & speckled calves & over 60% black or black speckled calves. Many are using Quill as an antidote for lighter colored smaller genetics. His most famous daughter is over 70" Sarasam, the widest horned black base cow in history. He was trained to ride and had a smooth fluid lope, turned and stopped well.


---
Rodeo Max - RODEO MAX ST is the new flavor of the herd at DCCI. This rich dark tri-color bull is a son of well known Maximus by Grand Slam. With a detailed look at his long star-filled pedigree you will find Senator, Gunman, Bail Jumper, Royal Spice, Ghost, Texas Ranger, Measles, Impressive, Roundup, Dakota Kid, Measles Super Ranger, Conquistador, Blue Blizzard and White Rock General. RODEO MAX ST is the 4th widest tip to tip, living, officially measured TL bull. He is a whoping 83. To pinch hit in the DCCI herd he will be natural service bred to cows with heavy beef conformation that are on the whiter; side of desirable color. He is one of the few TL sires over 80 who is a dark dominant near-black color; this works great on families of TL cattle heavy in the white color. He is TLBAA Horn Showcase winner of two Bronze for Tip To Tip, two Bronze for Composite and one Bronze for Total Horn.


---
Senator - He is sired by Overwhelmer, out of a Classic daughter. In the last 15 years more semen sold annually from Senator than any other longhorn bull. He is appreciated by people who want the total package. He tops the list of sires for the fastest gaining progeny in the breed. He has the privilege of being the sire of both great sons & great daughters. He sires much of the dark red chocolate pattern with beautiful amounts of splotchy white. Although his body color is mostly dark red, He is well known as a sire of beautiful rich color. Many of his daughters weigh 1200-1500 lbs. Senator is the most proven complete package of all the different qualities sought after in the Longhorn business. Senator daughters are loved for their thrifty condition during good or bad seasons. His most famous son is The Shadow who has 64.5" horns and weighs 2070 lbs. He sired Gibralter, the widest total horned steer ever measured officially. He will increase full rounded hip muscle size more than any other bull. See him on You Tube.


---
Sequel - He is sired by Senator, out of famous Ranger Measles, by Texas Ranger out of Measles. He is slightly larger than Senator with more bone & substance. His length of hip between the hooks & pins is believed by many Longhorn breeders to be the longest in the industry. Sequel is being used by people who desire excellent milk production, beautiful Measles color specks, good disposition & lots of size. As a young bull, he replaces many of the older sires that had a lot of substance. He is one of the thick sources of close up Ranger's Measles blood. Many people feel that Ranger's Measles is the all time leading dam in the industry having also produced All American, Pring, Impressive, Tri W Slide Rule, Bail Jumper, Emperor & Northern Star. Use him to increase beef quality and retain color, horn, and conformation. He has numerous working oxen sons in Costa Rica.


---
Shadowizm - He is a gold and black stripped brindle. His horn measurement of over 73" was one for the early record books. Possibly few, or no other bulls have ever matched this female siring ability. He is sired by The Shadow and out of a Zhivago daughter who is out of a Bail Jumper daughter. He has very correct conformation, a straight top line and good rate of gain. His sire is 2070 lbs. and his dam's sire is 2200 lbs. His birth weight was 66 lbs. Shadowizm sired Champion Shad Theme, Bella Belloucii, Capone and Jamakizm, all over 70" or 80" T2T. Many consider Jamakizm the greatest total all around sire in the nation although his untimely passing cut his breeding numbers short.


---
Super Bowl - He has 79" tip-to-tip horns. One of the great lifetime achievement bulls. He is by Superman, the longest horned son of Overwhelmer. His dam is a Bouncer daughter. Bouncer sired the largest horned steers and horn circumference of any Longhorn bull. Grand dam Kingly Blend is over 60" horn. This flashy pinto stamps a cookie cutter duplicate appearance to his calves that is not seen often. He breeds very small ears, a small symmetrical head, consistent deep red pinto colors and serious horn. Super Bowl was bred and raised by Dickinson Cattle Co., Inc. He is one of the most popular bulls in history. His sons are very coveted with vibrant style. He is a leading sire of 70" T2T sons and daughters. Super Bowl semen sales excel over other bulls of his era due to a great siring ability for value cattle. See him on You Tube.


---
Super Fast - Super Fast is a son of Super Bowl, out of Not So Fast, by Not Gunna and out of a Senator daughter. He offers a proven dimension in genetics for color, size, correctness and highly respectable horn. Although a large portion of his right horn has been broken, reliable sources calculate his tip to tip at 78" for a reconstructed measurement. This bull combines the correctness of Not Gunna, the flash and horn of Super Bowl and the thickness of Senator. He is a blend of excellent ancestry.


---
Superior - He is sired by Blue Horn, out of the famous corkscrew horned cow, Droop Horn. Superior is all Butler breeding. He is probably the tallest & heaviest bodied of all the Butler bulls. He combined the tight twist horn factor of his dam, with her tremendous milking abilities. His weaning weight was believed to be the best of any Butler bull on record. Superior's best known son is Phenonomeon, (60" horn) who many believed to be one of the top female horn sires in years past. Almost no semen is available from him.


---
Tabasco - He is sired by Dixie Hunter, out of the famous Delta Diamond, by Monarch. He is a beautiful chocolate, red & white speckled roan. Dixie Hunter was the best siring son of Classic & Rose Red. Delta Diamond was no doubt the greatest daughter of Monarch. She sold for $8,000 at 15 years old, sporting over 68" horn tip to tip. She was the cow that made Monarch famous as a beautiful horned female sire. Tabasco is 3/4 Butler & 1/4 WR. He traces back on the WR side to WR 1005, who also was the major horn contributor in the pedigree of Doherty 698 & Twist 21. Many of the largest horned cattle ever to come from the Wichita Refuge trace to WR 1005 through her most famous son WR 2308. Tabasco has 63" horns. Very little semen is available from Tabasco. See him on You Tube.


---
Tempter - Tempter was officially measured at 83 9/16" T2T and the second largest horn base measurement of the TLMA 2012 circuit at 17-5/8". He is also the largest weight of the plus 80 bulls who excel above his measurement. He is the third widest horned living bull. He is out of the All Age ITLA Champion Cow - Field of Pearls and sired by Temptations The Ace, one of the first over 80" bulls. His genetics provide a new blend for the industry. Semen Available for $50. Don't miss this genetic package for a jump into the mammoth horn category. His day is now! His weight and horn span are almost double many leading early foundation sires. See You Tube.


---
Texas Measles - He is sired by Texas Ranger, out of Measles. He is a full brother to Measles Super Ranger, Mr. Measles, Ranger's Super Measles, Texas Ranger Jr., Ranger's Measles, Cheetah & Ol' Measles. Texas Measles has the unusual distinction of being a sire of corkscrewed horned cows. He is known for siring beautiful females & one Reserve World Champion bull. Texas Measles is the grand sire of Gun Man's dam. Use him to add cork screw horn.


---
Texas Ranger JP - He is sired by Two Tone, out of Brazos Belle, all Phillips breeding. By every calculation, he has done more for the Longhorn breed to bring them into the limelight than any other sire in history. Not only does he sire great sons & daughters, his sons & daughters often reproduce better than themselves. The lineage goes on getting better & better. Every All Age World Champion bull & All Age International Champion bull in history have traced back to Texas Ranger in their pedigree. He is the only bull in history to have that merit. Young progeny are few & far between due to the fact there is only a small amount of semen left on the famous old Texas Ranger JP. Use him to perpetuate the miracle of AI conception 30 years after his death. (1968-1983) His lineage, like Win Win, trace line bred 25 times to Texas Ranger.


---
Texas Star - He was sired by Texas Ranger, out of Belle Star 31. This great old flamboyant red & white bull lived to be 20 years old & successfully bred up until the last day of his life. No other bull in the Longhorn breed nor probably any other breed in the United States bred for a 20 year life span & also produced thousands of units of frozen semen. His strong traditional Longhorn genetics & longevity make him a sire that will not go away. His best known son is Gunner. He will have numerous calves born in Brazil.


---
Texas Toro - He is sired by Texas Ranger, out of WR 1071. His most famous son is Cowcatcher, who opened up a whole can of worms in the Longhorn quality department. Many feel that Cowcatcher's sire Texas Toro was the best part of his genetics. Toro's mother was a great WR cow, with well over 50" horn. Even though Texas Toro was born in the early 70's, each year numerous people that have had success with his bloodline artificially inseminate their good cows to Texas Toro. He sires numerous brown, smoky & smutty colored offspring of a very rich dark earth color. Use him to reconstruct proven old foundation genetics.


---
The Shadow - He was sired by Senator and out of Good Friday by Dakota Kid. He had horn tip to tip of 65" and a total top side horn measurement of 82. He is a big 2070 lb. black bull possessing excellent hip and great thickness. He is a beautiful blend of 3/8 Butler plus Ranger and WR. At DCCI he was the greatest or an era. Use him for black, horn, height, length, disposition, milk, and size. His best sons are Mile Marker and Shadowizm. He sired the longest horned 5 year old steer in history at 96" T2T, Shadow Spear. He sired the first Longhorn female to be over 80" T2T on her 7th birth day, Shadow Jubilee, voted Ultimate Cow in 2011 and soon to be 90". He has 28 sons over 60" T2T. He is no longer with us but he lives on every day with frozen semen progeny. See You Tube.
The Fortieth Anniversary of the Dickinson Family Longhorn business was celebrated on June 6, 2007, The Shadow's birth day. His pedigree traces to the first calf owned by DCCI, Caldonia.


---
Tibbs - This bow-horned brindle speckled son of Juma holds great promise. He has excelled over his sire and brothers. His first 100 calves have proved his story. Horns T2T June 16, 2015 79.25 inches. Weight 1825 lbs. He is the younger generation with beautifully blended genetics. He is used on the higher horned DCCI cows, Drag Iron daughters and solid red and black cows.


---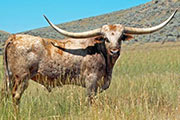 Top Caliber - Top Caliber is almost totally unrelated to the DCCI herd. His ancestral connection to DCCI genetics goes way back to Emperor, double bred Tabasco and double Dixie Hunter. His 85 1/8 T2T horn must be respected having won more horn measuring contests than any other sire in history. To avoid using Top Caliber semen if one wants very large horns is crazy. At DCCI TC is being mated to large beef type dark-colored females. Hopefully a great young bull will evolve from TC to add an unrelated strain. Not only is TC appreciated for his record horn, he has owners committed to professional marketing -- very important.


---
Top Hand - He is the blend of 2 very popular sires Top Caliber and Jamakizm. He is proving himself to sire great dark colors, flat lateral horn and served as an new blend at DCCI for 3 years. Both horn tips have been rubbed off making less spread than normal. He is was bred to Clear Win, Over Kill, Tempter and Drag Iron cows. Although he doesn't have full horn tips it is believed he would be over 80 inches, if he was complete. Sold to Joe Sedlacek.


---
Unlimited - He is sired by No Double, out of a Superior daughter. Unlimited has horn measurements of 64 5/8" tip to tip, making him one of the largest horned Butler bulls in history. Unlike many of the other Butler bulls, he is dominantly dark walnut brown & speckled in color. Many of his calves are highly colorful & possess beautiful Butler horn traits. All four of his great grand dams possessed the tight corkscrew horn twist. He has the most stacked pedigree for corkscrew horn shape of any bull in history. Unlimited is recommended as a top sire if Butler genetics are desired. Recommended for breeding to tight skinned cows that aren't solid colored for awesome results. He is a major site of lacey faces.


---
Unparalleled - He is a smoky black spotted color with a lacey face. His horn measurement at 36 months was 60-1/16". He is sired by Unlimited and out of Awestruck, by Hot Shot. Awestruck's dam is a full sister to Zhivago. Unparalleled could easily live up to his name. His horn circumference is huge and rapidly growing. Photo at 36 months of age


---
Victory Lap - His "head turning quality" is jam packed with every thing a Longhorn lover could want. He has a magnificent tri color pattern with black and gold specks and spots dancing around head to tail. His horn set and perfect shape is without fault. He is one of the deepest girth bulls of all times. His dam is Unattainable by Unlimited and out of the true cork screw cow Ranch Lady. He sired the International Jr Champion Cow in 2006 Victory Ahead. Semen from Victory Lap is available in New Zealand, Australia and the USA. He is truly a total bull. He replaces many foundation sires who cut a bold swath before him. Use on about any type cow. Name it and he will do a good job. Horn T2T 70." He is respected as a maternal sire.


---
Westward Ho - He is a bold black specimen with show conformation. His black appaloosa colored progeny quickly grab the eye. His sire Jet Jockey was All Age World Champion in 1988 and his dam is a sleek Senator daughter. Westward Ho was exported to Australia and several valuable progeny represent him down under. His calves are easy to appreciate. Use him for black, show conformation and good flat horn. His progeny won at every level in the TLBAA system when owned by Bob Moore.


---
Win Win - He is a bull we could have only dreamed of 10 years ago. He has great smoothness combined with thickness in all the right places. He is an exact duplicate of Winchester with a little more Bouncer and Senator added. He will had gone past 73" and well over a ton in pasture conditin. Those who appreciate muscle love Win Win. Look at his great forearm, bone and hip, from just a tiny 61 lb birth weight. This is a combination not found in other breeds--try to name one this easy calving that makes a ton! His grand dam Bounce'N Lynn is a half sister to the dam of Super Bowl and Over Lynn. Use him on solid colored dark or red cows when more horn, thickness and bone is desired. Use him for perfect type and style. He is the sire of World Champion Clear Win. See You Tube.


---
Winchester - He has more tip to tip symmetrical horn spread than any show champion in history. He weighs over a ton and has over 73" T2T horn. He's a beautiful black, gold, white and bronze brindle. Great family disposition and International Jr. 2000 Bull Champion. He's by Gizmo an out of Sadie Sam who is by Not Gunna and out of a Senator daughter. He's one of the great DCCI blend genetics that replace many before him. No bull in this breed has the huge hip and trim conformation combo like Winchester and his sons. He has been used for embryo transfer and has embryos shipped to Europe. As a complete bull he had more of everything than any other bull before him. He is the sire of International ITLA Champion Jester and DCCI sire Win Win.


---
Zhivago - He is sired by King, out of a Don Quintana daughter. Zhivago reached a mature weight of over 2,300 lbs. with horns tip to tip just over 64". Zhivago has more bone & substance than any other bull in history. His laid-back disposition makes him the favorite pet of any gathering where he may appear. Zhivago's sons are used as herd sires coast to coast. Zhivago adds substance, size & wonderful disposition to any pedigree. His daughters are excellent milkers. His best known sons are Gizmo & Zigfield. Use him to add thickness and meat quality with horn. His steer sons are being raised for riding due to perfect leg soundness and easy training skills. He is an extreme bull with cutting edge qualities and still breeding sound at 21 years of age.


---
Zigfield - He is sired by Zhivago, out of a daughter of Phenomenon. Both his sire & dam's sire combine the over 60" horn potential that is so sought after. Zigfield has a beautiful brindle, striped pattern with upper 50" horn measurement. He is recommended to breed for a complete pretty profile. He is good to use on cows with white, due to his dark brown, brindle coloration. Zigfield sired the biggest horn measurement on any DCCI bull of 1995. He is a strong sire of rich smokey colored, huge horned herd sires. His best sons are Fielder, Wanted Man, & Fultz Field.


---
Registered Texas Longhorns since 1967

DCCI~~~ Purveyor of "one owner" quality Cattle.
Copyright notice:
All images and content on this website are copyrighted. Dickinson Cattle Co., Inc., www.texaslonghorn.com, and/or Darol Dickinson are under no obligation to provide professional photos carte blanche. US copyright law is clear that all intellectual property belongs to the author or creator. Photos here are not "Public Domain". Articles here are not "Public Domain".
However; you are welcome to use any photo or article on this site accompanied by a credit and a valid web link. The photo credit needs to state: "Photo courtesy of Dickinson Cattle Co. LLC" and the link provided to www.texaslonghorn.com
Any other use is considered unauthorized plagiarism.