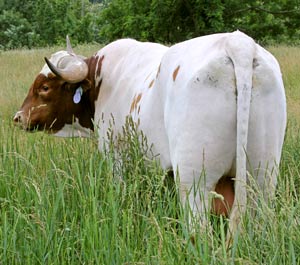 It is always the right season to make serious decisions about semen purchases. There are a lot of choices, but when all the chickens go to roost, CLEAR WIN fills the hen house as the complete bull of the industry. He has a 5 generation sire line of over-a-ton bulls, has great beef conformation and horn to the kazoo! He spans the tota gap to sire your next show winner or horn measuring champion -- both!

As a weaning bull he was not retained for dynamic color, nor was his world record horn development visual -- yet. He was kept from the "knife" due to his thick muscle, perfectly correct back line, trim underline and symmetrical small, yet wide face. His great conformation was his quality-visual early in life, and it still is.


CLEAR WIN won two divisions of the TL Extravaganza. Plus, he measured the largest horn circumference in Texas Longhorn history. (Not projected, real-life fact) His record base was 19 13/16" and today at 49 mo., his record T2T is 83."
This is not a wild projection, not a computer miscalculation, not a total horn -- it is real tip to tip, today.
See the CLEAR WIN family with extended data on the Dickinson Cattle Co Inc ranch site at: Click Here

Check out the Clear Win You Tube:
http://www.youtube.com/watch?v=RTfGMcJfSA0

Semen for only $75 per straw. Young sons available and cows with his service. Call for a piece of this bull. 740 758 5050. Plan to see him live, in person at the ITLA/TLMA Expo in Oklahoma City.

Please drop into our website and subscribe to our email list: Click here
Registered Texas Longhorns since 1967

DCCI~~~ Purveyor of "one owner" quality Cattle.
Copyright notice:
All images and content on this website are copyrighted. Dickinson Cattle Co., Inc., www.texaslonghorn.com, and/or Darol Dickinson are under no obligation to provide professional photos carte blanche. US copyright law is clear that all intellectual property belongs to the author or creator. Photos here are not "Public Domain". Articles here are not "Public Domain".
However; you are welcome to use any photo or article on this site accompanied by a credit and a valid web link. The photo credit needs to state: "Photo courtesy of Dickinson Cattle Co. LLC" and the link provided to www.texaslonghorn.com
Any other use is considered unauthorized plagiarism.