Drag Iron Career News!!!
On April 12 of 2007, a pretty brindle speckled son of Jamakizm and Shinning Victory came into the world. By the providence of God his DNA was the elite qualities of his parents right down to the wonderful soft disposition. He inherited the long tall frame of his sire, the black brindle color, with the over 80" spread. He got the great tri-color patterns, the thick hind quarters and the wide beef conformation from his dam going back to her sire Victory Lap. The DNA all came together creating a superior animal to all his ancestors.


At just over a year it was obvious that he was the special yearling bull at DCCI. Semen was quickly collected. His semen is used in the USA and has dominated the Australian genetics from imported semen.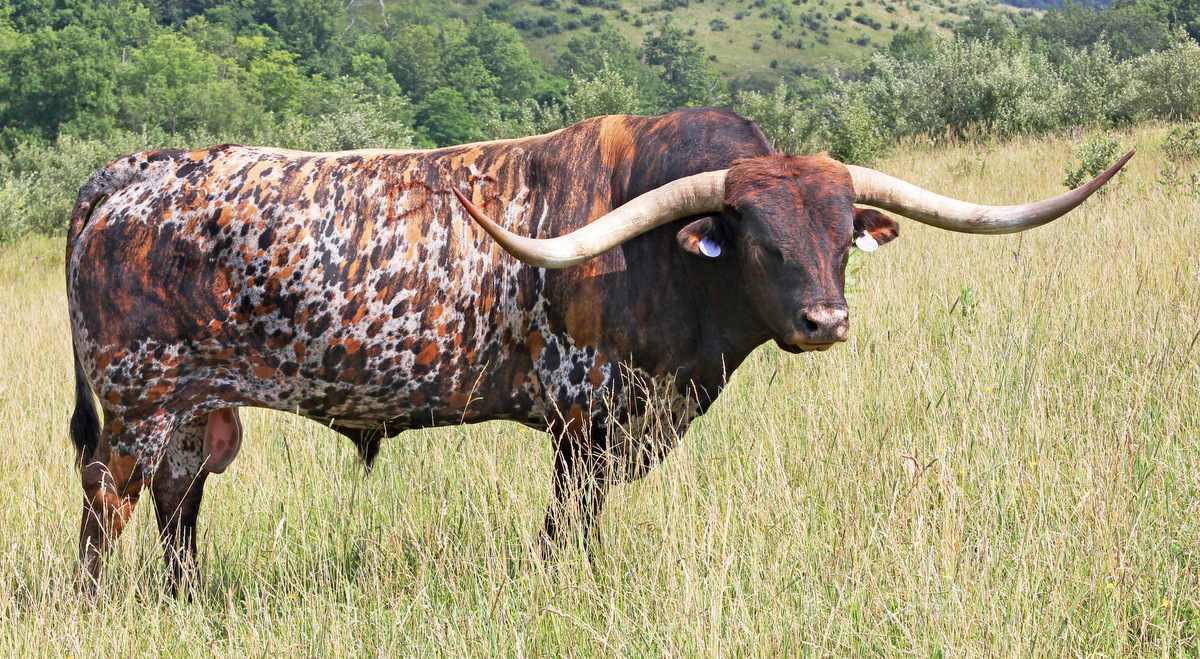 He won every time entered in horn measuring contests. In 2014 his Composite measurement of 220.93" was the third best ever documented in TLBAA and TLMA. His current T2T is 85".



On September 29, 2015, the 8'x28' shiny Glendenning Farms trailer backed up to Drag Iron's suite/stall, with deep shavings and new green hay. No critter had ever set foot in this trailer before.



Heatherly Smith makes friends with Drag Iron by feeding him his favorite bull candy. It takes about 30 seconds to make friends, when he is being fed.



Drag Iron leaves his suite looking for more food in the new shiny trailer. He likes this new trailer. It will be his "trailer house" for the next 18 hours. He has never seen a trailer or stall at DCCI with no fecal material. He also has an exciting new life ahead without deep snow this coming winter.



Drag Iron is over 9 and a half feet long, but he understands how trailers work. He likes the feel of clean shavings. This is a historical Kodak moment. He loads easily with a fly swatter or without.



Heatherly and Larry P Smith II, of Glendenning Farms, Celina, Texas are loaded and ready to head out. Glendenning farms is owned by Rex and Sherese Glendenning. Drag Iron is going to the home of famous bulls GF G-Man and Heavy Hitter, horn record holders for over 20 years.



The big Glendenning trailer heads for Texas. Drag Iron leaves 103 female progeny at DCCI with a few bulls -- really nice bulls. Although he is scooting down the interstate, departing from Ohio, he will still have calves born at DCCI from natural service next year, then AI calves thereafter. It is with mixed emotions that we watch him leave, but we were honored that the Lord gave him to us for the great DNA contribution he left at DCCI, Barnesville, Ohio.

Drag Iron is not only going to a great home, but he will have over 100 cows to hold court. He will give his best for many years. Thank you Rex and Sherese Glendenning and Larry II.
Registered Texas Longhorns since 1967

DCCI~~~ Purveyor of "one owner" quality Cattle.
Copyright notice:
All images and content on this website are copyrighted. Dickinson Cattle Co., Inc., www.texaslonghorn.com, and/or Darol Dickinson are under no obligation to provide professional photos carte blanche. US copyright law is clear that all intellectual property belongs to the author or creator. Photos here are not "Public Domain". Articles here are not "Public Domain".
However; you are welcome to use any photo or article on this site accompanied by a credit and a valid web link. The photo credit needs to state: "Photo courtesy of Dickinson Cattle Co. LLC" and the link provided to www.texaslonghorn.com
Any other use is considered unauthorized plagiarism.