2016 DCC Fall Fling is History
The 49th Annual Dickinson Cattle Co Customer Appreciation day was held Sept 24 at the ranch just north of Barnesville, Ohio USA. The business plan of DCC is to  provide demonstrations, and speakers to encourage and help all DCC clients to be more successful and easily achieve their profit goals.
DCC is a diversified cattle operation providing quality meats, registered breeding stock, ranch public tours, and exporting of semen and embryos. Join the herd with this photo presentation of the special events that were recently staged.

A cattle weight guessing contest was conducted by master cattleman Bill Farson. The winner who guessed the closest to the most cattle weights received a $100 DCC beef prize.


Ten family members and 5 employees were the cast members who planned and executed the event.


These ranch gals prepared the bar-b-q brisket, served all the great food, and cleaned up the damage.


Joel Dickinson organized the demonstrations of branding and bloodless castration. The castration was attentively viewed by the young boys.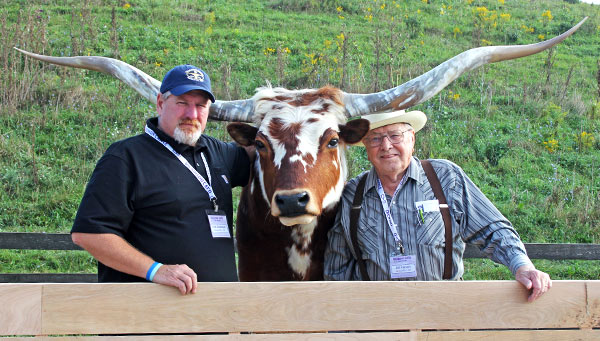 Kirk Dickinson organized the sound, drone filming, exotic fowl containment, and all computer promo. Master cattleman Bill Farson ran the weight guessing.


Darol Dickinson spoke on diversified production against all government odds, and James Coffelt spoke on total business opportunities in developing wealth with cattle and land.


Joel Dickinson organized the cattle demonstrations. Just over 173 people enrolled in the day's action. It was a beautiful Ohio day. Next year's event will be the last day of September - same place. For more info www.texaslonghorn.com.

Registered Texas Longhorns since 1967

DCCI~~~ Purveyor of "one owner" quality Cattle.
Copyright notice:
All images and content on this website are copyrighted. Dickinson Cattle Co., Inc., www.texaslonghorn.com, and/or Darol Dickinson are under no obligation to provide professional photos carte blanche. US copyright law is clear that all intellectual property belongs to the author or creator. Photos here are not "Public Domain". Articles here are not "Public Domain".
However; you are welcome to use any photo or article on this site accompanied by a credit and a valid web link. The photo credit needs to state: "Photo courtesy of Dickinson Cattle Co. LLC" and the link provided to www.texaslonghorn.com
Any other use is considered unauthorized plagiarism.