*HORN SHOWCASE RESULTS
DCC Ranch e-News #118, 10-06-2017
Barnesville, OH -- Sept 30, Dickinson Cattle hosted the Ohio satellite Horn Showcase regional measuring with Ed Callan as the official. Data from Canada, Europe and satellite points all over the USA were evaluated with final measurements at Lawton, OK on Oct 5. After the task of calculating all data was completed the awards were presented at the banquet Oct 6.


Three Horn Showcase Bronze awards were presented per class; tip to tip is straight across, total horn is around the total curve and a composite calculation which combines the tip to tip, plus total and adding the base circumference inches. There were 474 entries with up to 4 measurements for each critter with 61 divisional classes at 32 locations from Belgium to Alberta to California and back to Ohio.

Sincere compliments to President Tom Matott and the entire HSC staff for organization, calculations and the professional way the total program was handled world wide. Never in history has an event exactly like this been executed with such simple dignity.

As an exhibitor the last few years, Dickinson Cattle Co, LLC entered six head this year. At the Annual Awards Banquet DCC won 9 big bronze trophies, of which all were gratefully received considering the world wide competition. This is not easy! Here are all the DCC entries.


Time Line is a son of Rio Grande out of Dragon Pearl by Drag Iron out of Field Of Pearls. Time Line was born 4-26-15 and was in the March-April class #47. His T2T was 78" placing 2nd to Gold Mine who was 78.5" and 43 days older when measured.

Flair Galore is a son of Lots Of Flair by Jamakizm out of Winning Strike by Clear Win. He was born 5-6-15 and was in class #46 winning the Bronze for T2T at a pleasing 75.875."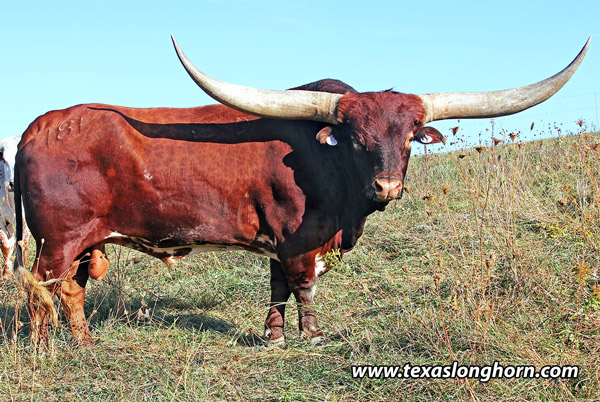 Clear Point is a son of Clear Win out of Idle Frenzie by Mile Marker. He was born 4-24-12 and competing in class #55, bulls age 5. He placed second by .375 of an inch T2T with his 90.875" measurement. He won both HSC Bronze for Total (114.375") and Composite measurement of 249.5625" which was the highest score ever for an age 5 bull and second all time high score of any age.

Rodeo Max was the oldest bull competing at age 13 in class #58. His 86.5" spread T2T won him the Bronze and he also won the HSC Composite Bronze.

Jam Packed is a daughter of leading 90" female sire Jamakizm out of Win W Bliss by Win Win. She is age 5 and competed in the big class #26. Her impressive 89.375" T2T brought home the Bronze for that division and her 216.25" composite earned a second HSC Bronze award.

Silent Iron is an age 4 daughter of Drag Iron out of Super Silent by Super Bowl. She was competitive in class #23. Her leading measurement of 89.5625" brought the tip to tip HSC Bronze to DCC and her 213.6875" composite brought a second HSC Bronze to DCC.

Joel and Kara Dickinson represented Dickinson Cattle Co at the HSC Banquet held in the Apache Hotel Ballroom, Lawton, OK.

Although there are many virtues to the Texas Longhorn breed, international horn measuring is like the Kentucky Derby to cattle owners -- only one nose crosses the line first. The numerical calculation of a winner, regardless of country, is conclusive, at least until next year's contest.
*All calculation data provided from TLBAA Horn Showcase official results.