Barnesville, Ohio, USA---------The Dickinson Cattle Co. LLC, (DCCI) who are known for Championship Texas Longhorn cattle, announced the last half interest in Ohio born sire Super Bowl just sold and has recently been transported to Texas. Red McCombs of San Antonio purchased the first half interest in 2002 and now owns the total bull.
For the past four years Super Bowl, the bull, commuted back and forth to work. He spent the Summers in Ohio at DCCI, then was hauled to Texas for breeding during the Winter season. As a result of the 1200 mile twice annual jaunt he was used for breeding service all year. This allowed him to sire up to 200 calves per year naturally, plus embryo and artificial insemination progeny. The acclaimed sire services daily, except travel days, semen collection, and freeze days.
Texas Longhorns are known for huge horns. Their long serpentined appendages are one sign of purity. Super Bowl sports a 75" tip to tip spread. He also amassed fans due to his large body size and flamboyant bright red spotted color pattern. Many serious Texas Longhorn producers feel he is the most valuable bull in the breed.
Originally he was registered by DCCI in the International Texas Longhorn Association as "Super Bounce." Due to Mr. McCombs' ownership of the Minnesota Vikings Football Team and his 24 hour dream of capturing the Super Bowl Championship, the bull's name was changed to Super Bowl.
Several thousand units of frozen semen have been preserved from Super Bowl. It will be for sale to other producers and for the private use of the owners. Semen was sold for $100 per 1/2 cc unit (straw) until two years ago when the valuable secretions were temporarily taken off the market. Today, if one compares the price of Super Bowl semen to the price of precious metals, by weight, it is 9.98 times the value of gold.
Thousands of people have personally viewed Super Bowl during narrated tours of DCCI. The ranch offers bus tours from June to October, which circulate through the cattle herds up and over the Appalachian hills. From displays at McCombs' Johnson City, Texas ranch, and the Summer tours, Super Bowl has honed an expanding fan club. For more information on Super Bowl, DCCI, and the Summer educational tours check www.texaslonghorn.com.
* * * * * *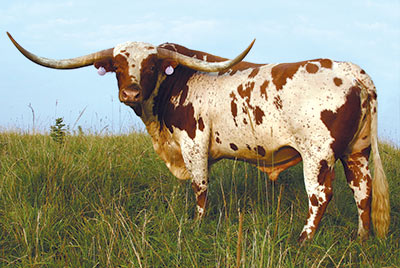 Caption: Super Bowl, the bull, one of the most valuable Texas Longhorn sires in history, has sold for an undisclosed price from Dickinson Cattle Company Inc of Barnesville, Ohio to Red McCombs Ranches of Texas. He is well known as one of the largest Texas Longhorn bulls and has the most horn (75" tip to tip) of any bull registered in the International Texas Longhorn Assn. Although bred and raised in Ohio he will no longer commute between Texas to Ohio twice annually, but permanently reside in Texas. For more information on Super Bowl, check www.texaslonghorn.com.