PRESS RELEASE
For immediate release please.
From:
Darol Dickinson
Dickinson Cattle Co. LLC
Barnesville, Ohio
740 758 5050
June 24 , 2005
DCCI Purchases Tri-W Cow Herd
---
One of the largest registered Texas Longhorn herds in the nation, Tri W Longhorns, of Tulsa, Ok. has been sold to Dickinson Cattle Co Inc, (DCCI) of Barnesville, Ohio. The herd was established with a foundation of embryo pregnancies acquired by Tri W from DCCI beginning in 1982. The heart of the herd features the breed's leading embryo producing cow, Doherty 698. (Dam of Phenomenon, Supreme Measles, Overwhelmer, Tri W Ladies Man, etc.) In fact the herd of near 500 head has pedigrees that trace to Doherty 698 over 800 times. Other greats include Rangers Measles (dam of Emperor, Impressive, Bail Jumper, Whelm Me, etc) that appears over 450 times.
Well known Tri W cattle include Tri W Slide Rule, Tri W Broken Arrow, Rangers Ranch Hand, Catch A Do, Tri W Legend, Tri W Lethal Weapon, Tri W 689 Lady, etc. Although Tri W is well respected for the over 60" horn spans, bold rich colors and fast beef gain, there is a dump truck load of Championship trophies captured along the show road. Many feel Tri W is the nation's leading producing herd of over 60" horn and World Show Winners during the past 23 years.
Wayne Rumley and Wes Hill dissolved a 23 year successful partnership with Wes's retirement.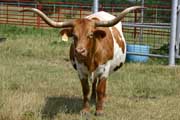 The herd will now be totally liquidated. The herd will be split and half will be shipped to Ohio to the DCCI main center of operation. The other half will be sold privately June 29 to July 8 at the ranch at 20105 S. Peoria, Mounds, Oklahoma. This is a once-in-a-lifetime chance to purchase reputation cattle of the highest quality. Call 740 758 5050 for viewing appointments.

Registered Texas Longhorns since 1967

DCCI~~~ Purveyor of "one owner" quality Cattle.
Copyright notice:
All images and content on this website are copyrighted. Dickinson Cattle Co., Inc., www.texaslonghorn.com, and/or Darol Dickinson are under no obligation to provide professional photos carte blanche. US copyright law is clear that all intellectual property belongs to the author or creator. Photos here are not "Public Domain". Articles here are not "Public Domain".
However; you are welcome to use any photo or article on this site accompanied by a credit and a valid web link. The photo credit needs to state: "Photo courtesy of Dickinson Cattle Co. LLC" and the link provided to www.texaslonghorn.com
Any other use is considered unauthorized plagiarism.