Texas Longhorn Field Day fun-filled and ready to educate area producers
By Leah Brown - Reprinted from "The Bargain Hunter"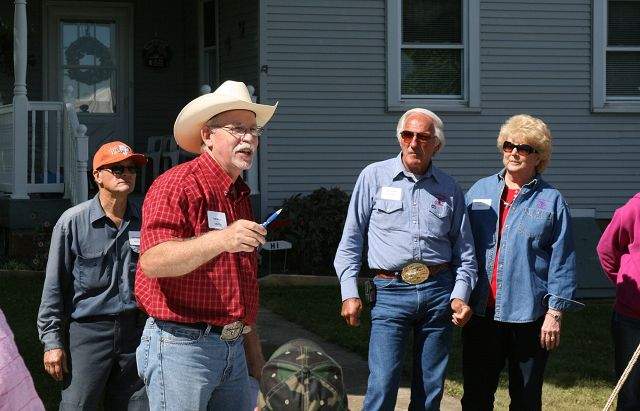 Tim Mills is determined to educate Ohioans on the markets available for longhorn cattle. He uses the annual field day as a way to reach many.
Everyone has seen cattle roping, but few know the real work that goes into raising, training and handling longhorn cattle. Ohio River Valley Texas Longhorn Association president Tim Mills has been working to educate the community on the longhorn cattle markets for the past three years through the Texas Longhorn Field Day.
In years past, Mills has held the event in Mansfield and Warsaw, but this year Habrun Arena, 8656 County Road 292, Millersburg, will welcome the event Sept. 20 at noon.
Mills said the longhorn is much different than other types of cattle. "When you're raising Angus you are pretty much stuck selling them for the meat counter," he said. "Longhorns are not like that." He says they can be used in sport, decoration, for meat and in many other markets.
The past two field days have each covered a different aspect of longhorn cattle ownership. The Mansfield session focused on topics such as field grazing and rotation and government programs available to help defray the cost of ownership. The Warsaw field day taught those interested how to set up and run a one-man longhorn cattle operation, something most owners must learn to do.
Although it may not seem as though the cattle is trained for roping, there is plenty of work that goes into making sure an animal is safe. "The animal actually has a job," Mills said. "They are actually schooled and have a job to do." As proof, Mills points to the pattern of movement all cattle seem to follow in the arena. The bulls or calves will step out of the chute, buck or run, and as soon as the rider or roper is finished with them, they'll make their way to a certain spot in the ring. Once they make it to that spot, the animal knows it will be allowed to relax and eat some hay, according to Mills.
"A lot of people know about it," Mills said, "but they don't really know about it." He said that although plenty of people know about cattle roping, they don't know all the training and preparation needed to make an animal suitable for sport, and they certainly don't think about all the other markets available to them as producers.
As part of his teaching efforts, Mills has made sure to include roping demos and instruction about how animals are trained. "There are also going to be dummies set up to let people learn how to throw rope," he said. "That way you can rope a fence post or your girlfriend or whatever."
"Some can do it and some can't," he said. "Some get smart enough that they know if they run three steps out of the gate and stop they can't be roped. So they do that."
Mills himself has been fascinated with longhorn cattle since he was a kid, which makes it an easy choice for him to promote the animal throughout Ohio.
Although he has worked to promote longhorns, few know there is a real market for them in the state. "I have reached out to the schools and the Extension office," he said. "I know there has got to be kids that want to get involved."
So far, his efforts seem to be successful. Mills said that for the past two events there has been a better turnout than he expected. He hopes this year's events in Millersburg leads to the same result.
The Texas Longhorn Field Day is open to the public and free of charge.