Press Release

   From: Longhorns Head To Tail Store
         35000 Muskrat
         Barnesville, Ohio 43713
Contact: Darol Dickinson
         darol@head2tail.com
         740 758 5050
         February 22, 2014
For Immediate Release Please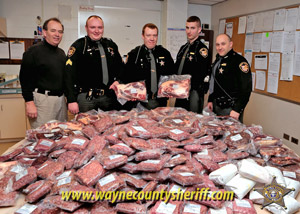 Wooster, Ohio ~~ At 3:00 AM the morning of February 22, a knock at the door of James Malone's mobile home, 318 Bardon St, Wooster, Ohio, by Wayne County Sheriff's deputies ended the all-points search for over $20,000 in stolen all natural beef product -- referred to by Ohio law enforcement authorities as "Operation Where's the Beef."
Between 11:00 PM Wednesday, February 19, and 3:00 AM the following morning, trucks quietly entered the loading area of Canaan Meats Ltd, 11970 Canaan Center Rd, Creston, Ohio. Their huge freezer storage building was "broken and entered" and fresh-frozen, vacuwrapped meat product was removed in 50 lb boxes of nearly three tons of grill ready steaks and grind.
Ryan Lilly, an owner of Canaan Meats reported the theft to Wayne County Sheriff department officers Bergy, Brumme and Hunter. Captain Hunter placed an all points alert on Face Book including a photo of the white meat box, which read -
Tweets - Large amount of meat stolen. Boxes are labeled Longhorns Head to Tail. Follow the link to learn more. nixle.us/8CS4N. waynecountysheriff.blogspot.com
The following is from the Wayne County Sheriff's official report:
Within 15 minutes of this information being posted we received information pertaining to the suspects.
Deputies worked this case into the early morning hours when they executed a search warrant on Canaan Center road. Upon entering the residence the deputies encountered two men and a woman. While searching the home the deputies discovered a large quantity of meat inside of two bathtubs in the home. The meat was covered with snow to help keep it cool. Additional meat was found in the refrigerator and yet more in trash bags filled with snow.
The suspects were then arrested and transported to the Wayne County Justice Center. Arrested are...
James Malone age 36 of 318 Bardon St. Wooster
Penny Malone age 41 of 318 Bardon St. Wooster
Tyler Chrostowski age 24 of 1181 Mindy Lane Wooster
All three suspects were arrested for receiving stolen property. All three suspects have lengthy criminal records and are no strangers to the Wayne County justice system.
The meat that was recovered is valued at over $9000.00
In addition to the meat that was recovered, the deputies also discovered marijuana and a ledger containing the names and phone numbers of individuals who purchased meat from this trio of criminals. If you bought meat from these people, you may want to contact us today.
Additional charges are expected as the investigation into this matter continues.
Canaan Meats is a custom meat processing plant, inspected by Ohio Dept. Of Agriculture. High profile product is professionally processed and temporarily stored, and frozen, for multiple clients. Longhorns Head To Tail Store, of Barnesville, Ohio is a major client and had several tons of fresh product in storage at Canaan. Although several other clients had product stolen, the Longhorns Head to Tail inventory alone was valued at $9,015.08.
Owner Ryan Lilly said, "Marketing of stolen beef with the Longhorn Head To Tail label on every package was not like robbing a bank. Every one pound package was a marked item with the weight, name of the beef cut and address of the processor. It is not like laundering unmarked stolen goods."
Longhorn Head to Tail Store owner, Darol Dickinson reports that all the recovered product will be disposed of, "Some seals have been broken, meat has been thawed and sanitary conditions have been compromised. The clear plastic wrapped beef is also being retained today by authorities because the suspects finger prints are on nearly every package."
Stolen product inventory included Texas Longhorn beef jerky, summer sausage, hundreds of pounds of lean grind, halves of freezer beef, quarters and assortments of primal cuts of choice grill steaks.
Anyone with information on purchasers of large amounts of beef packaged in boxes labeled "Longhorns Head to Tail," with information about this crime, please contact Wayne County Sheriff's office at 330 287 5750 or email Capt. Hunter at dhunter@wcjustice-center.org.
Thanks to the fast action of Wayne County Sheriff's staff, within an hour of an all points alert on Face Book, suspects were arrested with part of two truck loads of unsold evidence -- grill ready -- nearly.
Longhorns Head 2 Tail, LLC. - 35000 Muskrat Rd. - Barnesville, OH 43713 - 740 758-5050