From Longhorns Head to Tail Store, Barnesville, Ohio, ph 740 758 5050.
Memo: Famous French chefs are known historically for the ability to take economical base meat cuts and through unique preparations create something of great taste and value. Such is this wonderful Taco Pie recipe. With grass fed Texas Longhorn beef, which has more omega 3 than most Salmon, and add some vegetables on top -- kazaam, you have it! It is better with a Texas Longhorn beef inside. DD
TACO PIE!!!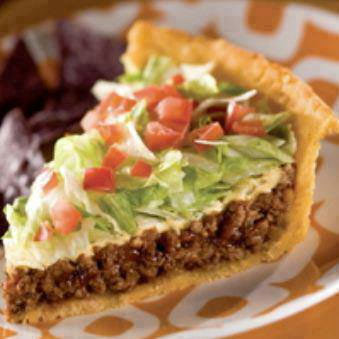 Ingredients:
1/4 cup butter
2/3 cup milk
1 package Taco Bell seasoning mix
2 1/2 cups mashed potato flakes (you could also use left over mashed potatoes and omit the butter and milk)
1 pound grass fed, lean, ground beef
1/2 cup chopped onion
1/2 cup salsa
1 cup shredded lettuce
1 medium tomato, chopped
1 cup sharp cheddar cheese, shredded
Sour cream, optional
Directions:
Preheat oven to 350 degrees. In a medium sauce pan, melt butter. Add milk and 2 tablespoon taco seasoning.
Remove from heat and add potato flakes until incorporated. Press mixture into the bottom of a 10-inch pan. Bake for 7-10 minutes until it just BARELY turns golden brown.
In a medium skillet, cook beef and onions until beef is browned and cooked through. Drain if other than LHTT beef. Add Salsa and remaining taco seasoning. Cook until bubbly. Pour into crust. Bake for 15 minutes, or until crust is golden brown. Let cool for 5 minutes.
Top with cheese, lettuce, jalapenos and tomatoes as desired. Cut and serve with sour cream.
For other recipes using LHTT heat and serve products
https://head2tail.com/recipes/